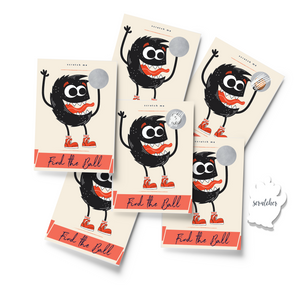 Set of 12 ready to play scratch-off cards (4" x 6"). Printed on heavy weight premium coated matte card stock (promise the card will not rip when scratching the seal). 
As a party planner, I know first hand these cards are great conversation starters. You can use as a door prize, place at each table setting, or even have a "monster card" hunt. HINT: the hunt keeps guest entertain and having fun while waiting for everyone to arrive. Once a guest finds one card they can help the others. PARTY TIP: I like the guest to wait to scratch the card to revel the winner until every guest has found one. 

Each set contains one (1) winner. 

The scratchers are not included but can be ordered separately.